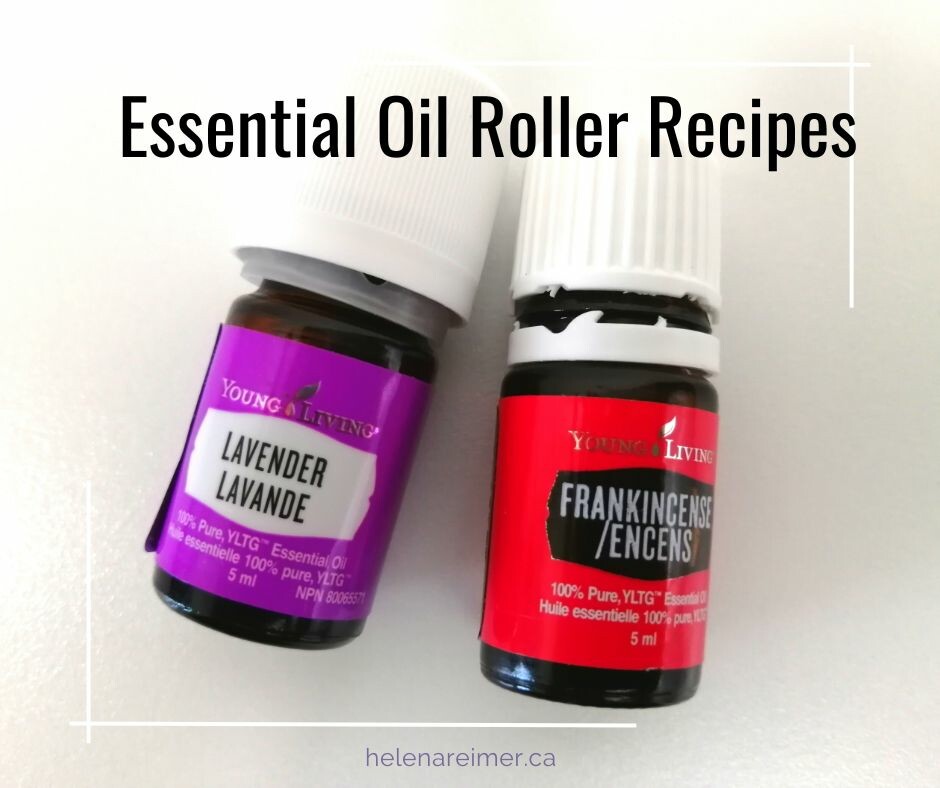 These roller recipes with Young Living starter kit oils are a great way to begin your oily journey! When I first started with essential oils, my favourite way to use them was in a roller bottle! And to this day, I still love them and always have several rollers handy with different oils in each.
Essential oil rollers can be used on the forehead and temples, as well as on top of your head and the back of your neck to help you to relax or to feel more energized, depending on which oils you use. Plus, many oils are great for the skin, thus making them great for the entire body.
While I have many favourite oils, the following roller recipes are a great place to start, especially if you are a proud owner of a
starter kit from Young Living
.
In addition to your oils, you will need a 10ml roller bottle and carrier oil. Or, you can also use an empty oil bottle along with an AromaGlide Roller Fitment.
To make the roller ball, simply add your favourite essential oils along with the carrier oil to the roller bottle. Put the roller top on, give it a good shake and you're all set to enjoy.
Energizing
Recipe 1
Recipe 2
10 drops peppermint
10 drops lemon
Aches and Pain
Recipe 1
10 Drops panaway,
8 drops copaiba
8 drops peppermint
Recipe 2
10 drops lavender
8 drops peppermint
5 drops copaiba
Mental Refresh
Recipe 1
10 drops lavender
10 drops peppermint
5 drops lemon
Recipe 2
10 drops lavender
10 drops peppermint
5 drops lemon
Recipe 3
15 peppermint
10 Frankincense
Recipe 4
15 northern lights black spruce
15 Frankincense
10 lavender
5 drops lemon
Relaxing
15 drops lavender
10 drops Frankincense
Digestive Aid
10 drops DiGize
5 drops peppermint
5 drops lavender
5 drops lemon
Foot Rub
10 drops Thieves essential oil blend
8 drops purification
5 drops Frankincense
5 drops lavender
5 drops lemon
Healthy Skin
10 Drops Frankincense
10 Drops lavender
5 Drops lemon
Essential Oil Safety Tips
Although the essential oils from Young Living are pure, they are highly concentrated and therefore, not intended for internal use. The only exceptions are the + oils in Canada and the Vitality oils in the US, both of which are labelled as food flavourings and safe to use in all your favourite recipes.
Always dilute your oils with a carrier oil before applying them to your skin, as some oils may be irritating to the skin. Young Living carries a carrier oil called the "V-6 Enhanced Vegetable Oil Complex". I love this because it is non-greasy and feels great on the skin. Other great carrier oils include fractionated coconut oil, almond oil, olive or any other cooking oil.
If you are new to a particular oil, start with a small amount to see how your body reacts and work your way up to stronger doses if you like.
Do not apply oils around mucous membranes, eyes, ears and other sensitive areas.
Always check your labels before using as different oils have different effects. Some oils, such as citrus, are photosensitive and can cause skin irritation if you apply them before going out into the sun. Other oils, also known as "hot oils", can burn the skin if undiluted.