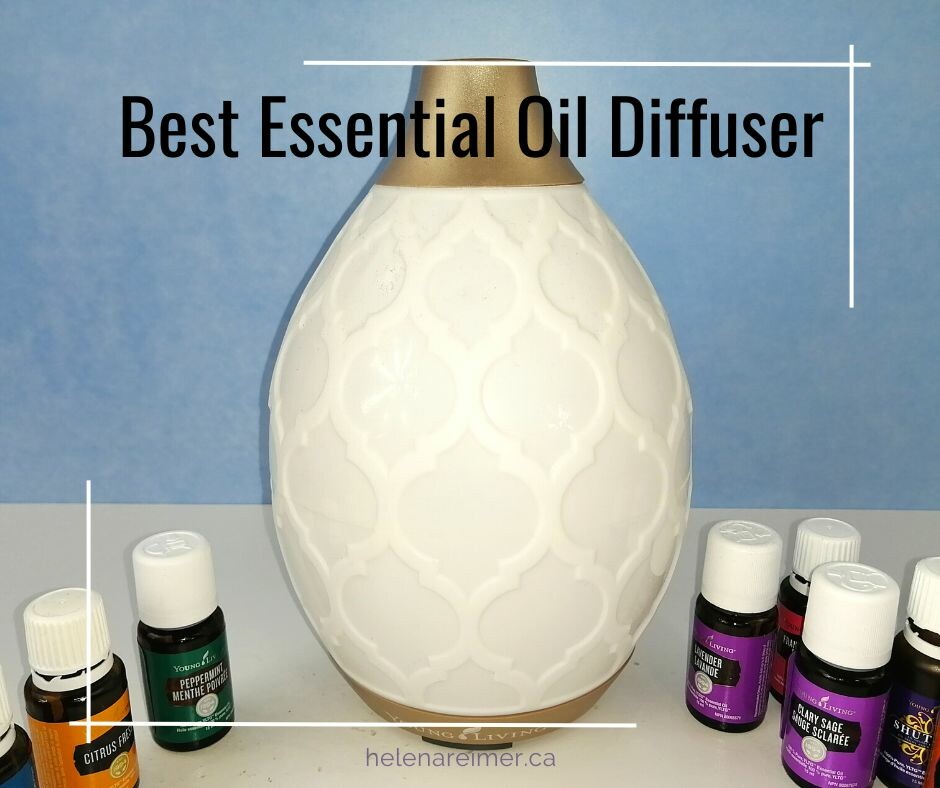 If you're looking to freshen your home naturally, look no further than an essential oil diffuser that you can use with your favourite essential oils. What I love about a diffuser is that you can use a different scent every day! There are uplifting oils to increase energy as well as oils that can help you to relax!
Best of all, pure essential oils do not contain any harmful chemicals that are found in many conventional air fresheners! They have no ill effects on your respiratory system and are safe to use around your children and your pets.
So if you haven't already, why not make the switch today? I promise you will never look back!
So which is the best essential oil diffuser? To be honest, that depends on your preference. Do you need a diffuser with a strong mist or one that can run quietly all night? Do you like pretty lights to set the mood in the room or one that is easy to maintain?
If you answered yes to any of those, then I got the perfect solution from Young Living: The
Desert Mist Diffuser
or the
Dewdrop Diffuser
. Both have multiple settings to meet your needs for every occasion! Here are some key features:
Three mist settings to choose from:

High - This setting will run for about 5 hours. It's great for times when you have friends and family over or times when you want the home or office to smell the very best!
Low - This setting will mist gently for about 8 hours. It's perfect for those 8-hour workdays at the office!
Intermittent - This setting will mist for about a minute and then shut off for a minute, thus allowing it to go on for about 10 hours. This is a great setting for the evening and night to help you get settled into a restful sleep, and then maintain that sleep until you're ready to get going the next day!

It has 11 different light settings, making it great for romantic evenings, or to use as a calm night light.
It runs quietly, so you don't even know it's there.
Maintenance is easy; simply wipe the interior to prevent water residue from building up.
It is inexpensive to purchase!
You can purchase the diffusers separately, or get them in a
starter kit
with 11 popular essential oils to get you started on the path of clean living.
The Young Living Premium starter kits in Canada include the following:
Diffuser
11 Essential Oils (5ml each)

Lavender
Peppermint
Lemon
Copaiba
Thieves
Panaway
R.C.
Purification
Di-Gize
Frankincense
Northern Lights Black Spruce

Thieves Waterless Hand Purifier (1 oz)
AromaGlide Roller Fitment
10 Love it? Share it! Sample Business Cards (English and French)
10 Love it? Share it! Sample Oil Bottles
2 NingXia Red 2oz samples
Product Guide (English with French Add-On Option).
More About These Essential Oils
Copaiba. Copaiba essential oil is high in beta-caryophyllene. It mixes well with other oils, making it great for use in roller bottles as well as in diffusers. You can also use this in the bath and in homemade deodorants.
DiGize. The DiGize essential oil blend contains a blend of ginger, peppermint, tarragon and other essential oils that work together to help relieve symptoms of digestive discomfort.
Frankincense. Frankincense has a calming effect and is often used in meditation. When used topically it may help to promote healthy-looking skin. It mixes well with other oils in diffusers and roller bottles. Can also be used in bath and beauty products.
Lavender. Lavender comes from the Latin word Lavare, which means "to wash". It has a welcoming fresh floral scent, which makes it ideal for use in bath and beauty products.
The lavender essential oil has been approved by Health Canada as a natural remedy for symptoms of cough and cold, digestive discomforts, headaches, and joint and muscle pain. It has a calming effect, making it great for diffusing at night. It is also great for the skin when applied topically.
Lemon. Who doesn't love the scent of lemon? It is widely used in cleaning products because of its clean and fresh scent.
Lemon essential oil is a natural pick-me-upper and has been approved by Health Canada to help relieve symptoms of the common cold.
Northern Lights Black Spruce. This is another refreshing oil that you can diffuse or add to your roller bottle blend for a sweet aroma. It is often used in meditation.
It mixes well with Frankincense, lavender, copaiba, and lemon from your starter kit.
Panaway. The panaway blend is great for active individuals to apply after workouts. It's also very soothing in the bath.
Peppermint. Peppermint has a refreshing scent that helps to increase energy levels. Health Canada has approved this oil as a natural remedy for easing joint pain, symptoms of the cold, and digestive discomforts. It also helps to support the nervous system and promotes a sense of calm.
Purification. Just as the name implies, the purification essential oil blend helps to purify and deodorize odors in the air when diffused.
R.C. R.C. stands for Respiratory Comfort. It contains a blend of essential oils such as peppermint, eucalyptus and lavender, which can help to alleviate symptoms of the cold. Diffuse or add it to your bath water.
Thieves. The Thieves essential oil blend contains refreshing oils like cinnamon, cloves and lemon that work together to create a warming fall scent in your home. It also contains eucalyptus, and can help to relieve symptoms of the cold.
Other Products Included
Thieves Waterless Hand Purifier (1 oz). This hand sanitizer is made with natural ingredients and doesn't leave your hands feeling dry. It's great for kids and adults!
AromaGlide Roller Fitment. This roller fitment is designed to sit on top of your essential oil bottle to transform into a roller bottle. Thus, always keep your empty bottles. The starter kit only includes one fitment, but you can get them in packs of 10.
10 Love it? Share it! Sample Business Cards (English and French). These are great, not only if you plan on doing the business side of Young Living, but they also make for great additions to the oily gifts that you'll be making for your friends and family.
10 Love it? Share it! Sample Oil Bottles. These are very small sample containers that allow you to share some of your starter kit oils with your friends and family.
2 NingXia Red 2oz Samples. NingXia Red is a concentrated drink made from wolfberries, and other fruits and berries to help restore nutrition.
Product Guide (English with French Add-On Option). This is a great resource for those just getting started with Young Living. You can view the online version here on Issuu.
Essential Oil Safety Tips
Although the essential oils from Young Living are pure, they are highly concentrated and therefore, not intended for internal use. The only exceptions are the + oils in Canada and the Vitality oils in the US, both of which are labelled as food flavourings and safe to use in all your favourite recipes.
Always dilute your oils with a carrier oil before applying them to your skin, as some oils may be irritating to the skin. Young Living carries a carrier oil called the "V-6 Enhanced Vegetable Oil Complex". I love this because it is non-greasy and feels great on the skin. Other great carrier oils include fractionated coconut oil, almond oil, olive or any other cooking oil.
If you are new to a particular oil, start with a small amount to see how your body reacts and work your way up to stronger doses if you like.
Do not apply oils around mucous membranes, eyes, ears and other sensitive areas.
Always check your labels before using as different oils have different effects. Some oils, such as citrus, are photosensitive and can cause skin irritation if you apply them before going out into the sun. Other oils, also known as "hot oils", can burn the skin if undiluted.